Full Automatic High Frequency Rotary Table Welding and Cutting Machine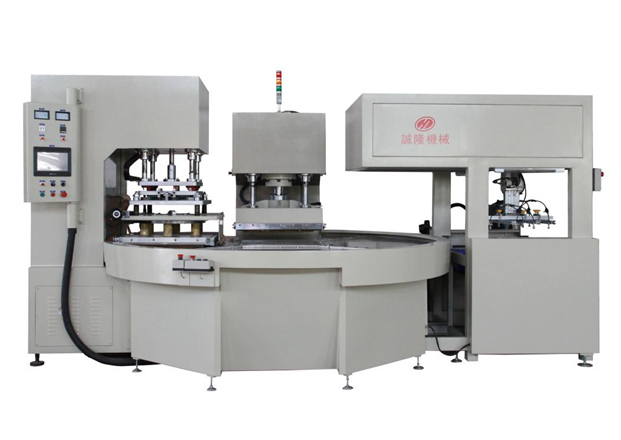 Product Information
Model: CL-GP-15KW40T-ZP
Features:
1.Machine is composed of three portions to coordinate the completion of operations. High Frequency portion: Mould can be automatically adjusted in four directions, easy to operate, positioning accuracy and high precision. Die-cutting portion: Frame structure of the machine is welded by the international advanced sectional cryogenic treatment material. Part of the casting reinforced welding,enhancing compression resistance and corrosion resistance of the frame structure itself, can effectively prevent the occurrence of fracture, fault, shaking in the operation, and thus caused by the instability of unsafe factors.
2.The advantage of the rotary segment is that it embodies the core values of the product itself. The stable output of High Frequency can make the creasing line of plastic box soft and bright, full embodies the aesthetic taste of the plastic box, namely bright, straight, soft. The complete solution to cut off the flange accomplishes automatic rewinding and integration of the production process, is essential machine for making high quality plastic folding box.
3.Sectional principle: well-known brands, precision cam indexers,flow operating and refined.
4.To be customized according to customer requirements of different specifications, different power of similar machines The company is now working on manufacturing standards for working Upper/Lower Platen Size is 700mm x 800mm.
Application:
Ideal for PVC,PET, PETG,GAG,EVA,TPU products
The essential model of machine for international high-end quality products.